Overview
Apply for Rebate Online
Using the electronic filing option offers many benefits, including: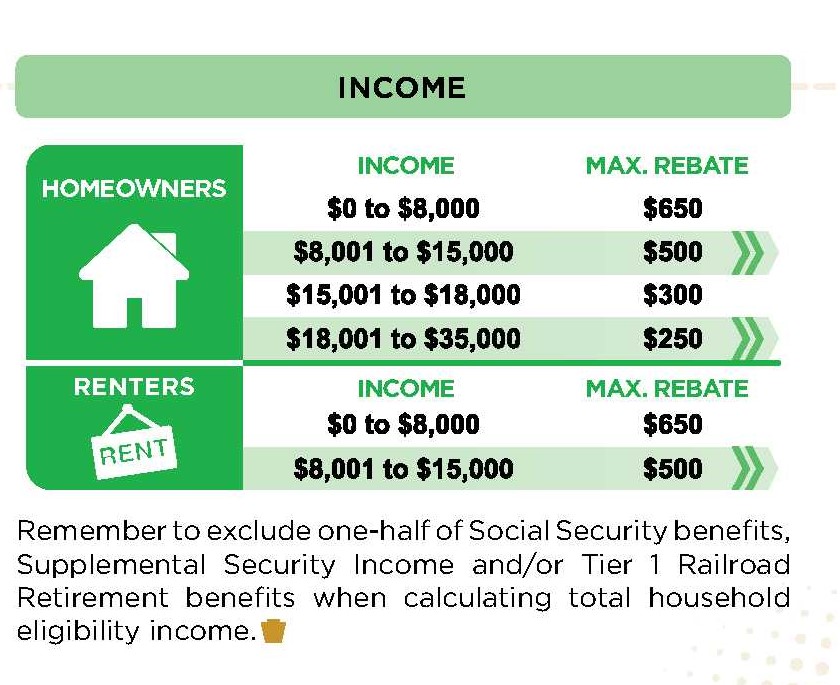 Fast processing and direct deposit options
The "Where's My Rebate?" system to track the status of a claim online
Error-reducing automatic calculators
Security features to ensure your sensitive information is safe
User-friendly features that are not available when filing a paper application
If applicable, please have these potentially required documents nearby and available to be electronically uploaded with your application:
Proof of age
Proof of disability
Proof of death
Proof of income
Proof of taxes paid
Proof of rent paid
Photos of your documents are accepted. If your attachments are not able to be electronically uploaded with your application, you will have to file a paper application.
File Paper Application
Download Application/ Request an Application be Mailed to You
Free Assistance
Property Tax/Rent Rebate application forms and assistance are available at no cost from the Department of Revenue district offices, legislators' offices, and GECAC Area Agency on Aging.
Contact this helpline for more information.
1-888-222-9190 Department of Revenue Erie Office
Contact or visit the Department of Revenue for assistance with your rent rebate forms.
448 W 11th Street
Erie, PA 16501-1501
Phone: 814-871-4491
Taxpayer assistance hours are 8:30 a.m. to 5:00 p.m. Monday through Friday.
Area Agency on Aging Senior Helpline: Make a phone appointment with our staff to obtain assistance in completing the application. 
814-459-4581 x400
Age
The rebate program benefits people age 65 and older
Widows and widowers age 50 and older
People with disabilities age 18 and older.
Income Limit
The income limit is $35,000 a year for homeowners and $15,000 annually for renters, and half of Social Security income is excluded.
Rebate Amount
The maximum standard rebate is $650, but supplemental rebates for qualifying homeowners can boost rebates to $975.
Application Deadline
June 30, 2023